Led Stadium Light-Volleyball Court Lighting
---
---
Led Stadium Light---Volleyball Court Lighting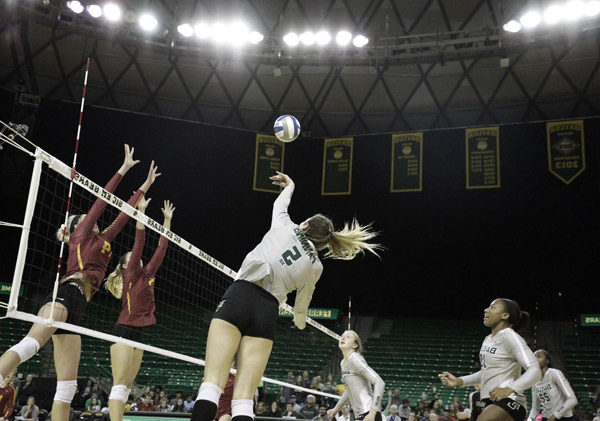 Whether it is a recreational activity, or an international competition, the lighting on a volleyball court should be uniform and sufficiently bright. Generally, low-level matches require LED lights with a brightness of up to 200 lux, while top-level competitions, such as World Cup, and Olympics need a lighting system with a brightness level of 500 lux, and a uniformity task of >7. Uniformity has an important role during volleyball matches. Fields that are dim in some places, and too bright in others will create discomfort to spectators, and confuse players. Thus, each court, no matter its nature, should have a uniform lighting plan.
a. Quality LED lights
During professional competitions, flicker-free LED lights are used to allow capture high-speed shots. This allows for quality photography made by spectators, and improves the television broadcasting. Anti-glare feature is also often embedded in the luminaries on the volleyball courts. The floodlights have a special coat that prevents glaring, which can blind players while they are following the ball in the air. Outdoor courts are more exposed, needing more precaution measures. They are equipped with weatherproof lights that are meant to provide protection against rains, and excess heat from the sun. Also, outdoor courts can be illuminated with sodium lights, whose yellowish UV hue keeps mosquitoes at bay.
b. Pole arrangement inside volleyball court
Depending on the purpose of the volleyball court, lighting systems can be installed in several ways. Amateur venues are equipped with 4 poles, one pole in each corner of the court. Professional venues, though require more lighting power. This is why, they have 8 poles spread uniformly around the perimeter of the court. Poles also vary in terms of height. If they are high, they need LED lights with more power, or more sets of luminaries with lower-power LEDs. Another type of lights that are widely used for volleyball courts are metal halide lights that give off a powerful white illumination.
8. Badminton Court Lights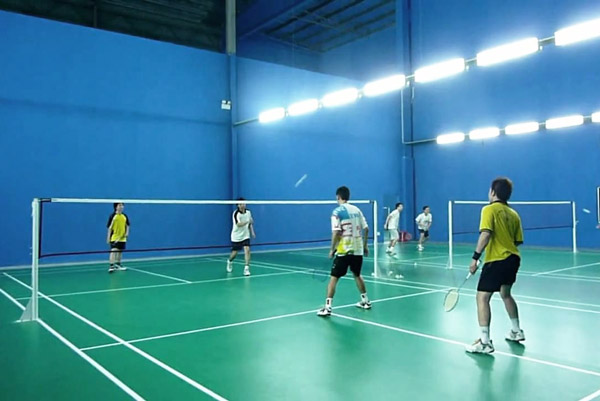 A well-lit badminton court will help to attract the right players in addition to ensuring that anyone on the court has sufficient light to exercise without getting injured. Badminton lighting must meet international standards in addition to ensuring uniform illumination, having no glare and exhibiting no strobe effects. The following are a few tips to help you choose the light righting for your badminton court:
a. Life span
Choose long life lighting that will last for a number of months or years without requiring replacement. A good option is LED lighting which typically has a rated life of 50,000 hours. Used only 12 hours a day, good LED lighting will last up to 11 years without having to be changed. This will help you save on costs in addition to ensuring that your badminton court is well lit without fear that the lighting will go out anytime soon.
b. Ceiling height
A badminton court must be high enough that it does not interfere with the shuttle serve. In addition, it must meet the ceiling requirements of24 to 29 ¼ feet used by most countries. As a result, choose lighting that can be used on a ceiling of this height without compromising on illumination. Remember that due to glare, badminton lights should not be placed directly above the playing area.
c. Indoor or outdoor use
Badminton courts are located both indoors and outdoors and it is therefore important to take this into consideration when choosing lighting. Outdoor lighting must be hardier and adaptable to various weather conditions. Indoor lighting on the other hand needs to be brighter and longer lasting because of darker conditions and heavy-duty use.
d. Lighting balance
Proper badminton lighting makes use of both natural and artificial lighting. During the day, natural light use is maximized in order to make energy savings. The amount of natural light available should act as a guide when selecting the right badminton lights. Since you are most likely going to use both types of lighting, it is best to ensure that the artificial lighting is enough to complement the natural without leaving parts of the court under lit or being so bright that they blind both players and spectators.
The right badminton lights will ensure a comfortable playing experience for athletes and pleasant viewing for spectators. By using a few simple tips, you can select the right badminton lights for your court, and ensure that it is efficiently and effectively lit for the people who will be using it.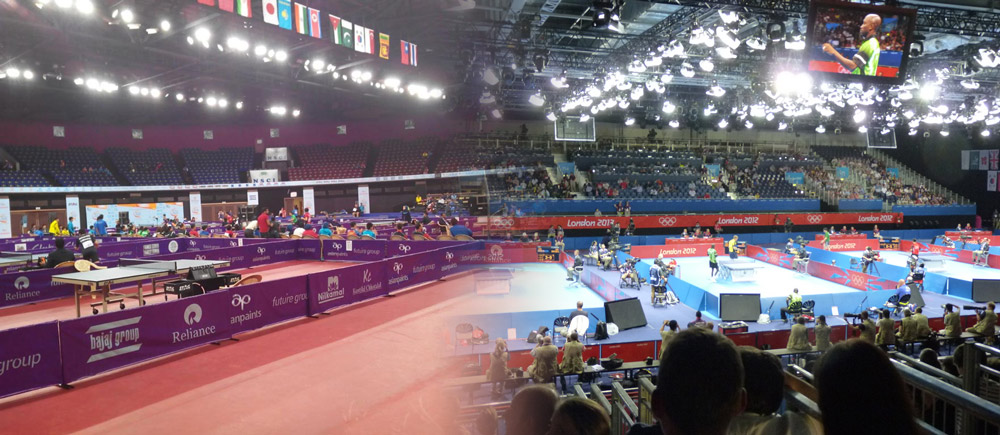 9. Table Tennis Court Lighting
Table Tennis is a game loved by many people, and public tennis courts are available for people with racquets and balls. However, a court can be added to a homeowner's backyard, and this is dependent on a budget of the owner. The importance of lighting in a tennis play-area cannot be overemphasized as games can last till late in the evening. Making some changes in the lighting fixtures can help in improving lighting solutions for a table tennis court.
Some people also love to play some games very early in the morning before going to work and the sun may not be out at this time. Lighting a court or renovating existing lights should not be a cause for worry as the following tips will guide you.
a. Lighting points to note
The fixtures of your existing lighting should be examined while dark spots on the court should be checked. It is also important to check for glare and how the ball is well lit when moving from one part of the play area to another. You should endeavor to play after the sun has gone down so that you will be able to see how the light affects your games. Special note should be taken when some lighting fixtures cause blinding when you want to serve or return a lob.
After you have determined that you need lighting the table tennis court, you may want to look for the different styles of tennis lighting available in the market. We deliver the LED luminaries that work excellently to provide daylight kind of illumination in the court.
b. Residential vs commercial table tennis room lights
If you are designing a new lighting scheme for a tennis court, then you may first want to consider whether it is a residential court or a commercial court. The residential ones usually make use of the low-mast lights that diminish the glare and distribute light evenly across the entire court, while preventing it from going farther from the sports area. You may also consider using light fixtures and bulbs that help in reducing the glare and spreading the light evenly on the court. You may take the help of a professional to understand which lighting system is good for your court and as per his advice you can choose the right system.
Always install new lighting fixtures in the supervision of the experts so that they provide the right solution for all your tennis requirements.