Led Stadium Light--Table Tennis Court Lighting
---
---
Led Stadium Light--Table Tennis Court Lighting
Table Tennis is a game loved by many people, and public tennis courts are available for people with racquets and balls. However, a court can be added to a homeowner's backyard, and this is dependent on a budget of the owner. The importance of lighting in a tennis play-area cannot be overemphasized as games can last till late in the evening. Making some changes in the lighting fixtures can help in improving lighting solutions for a table tennis court.
Some people also love to play some games very early in the morning before going to work and the sun may not be out at this time. Lighting a court or renovating existing lights should not be a cause for worry as the following tips will guide you.
a. Lighting points to note
The fixtures of your existing lighting should be examined while dark spots on the court should be checked. It is also important to check for glare and how the ball is well lit when moving from one part of the play area to another. You should endeavor to play after the sun has gone down so that you will be able to see how the light affects your games. Special note should be taken when some lighting fixtures cause blinding when you want to serve or return a lob.
After you have determined that you need lighting the table tennis court, you may want to look for the different styles of tennis lighting available in the market. We deliver the LED luminaries that work excellently to provide daylight kind of illumination in the court.
b. Residential vs commercial table tennis room lights
If you are designing a new lighting scheme for a tennis court, then you may first want to consider whether it is a residential court or a commercial court. The residential ones usually make use of the low-mast lights that diminish the glare and distribute light evenly across the entire court, while preventing it from going farther from the sports area. You may also consider using light fixtures and bulbs that help in reducing the glare and spreading the light evenly on the court. You may take the help of a professional to understand which lighting system is good for your court and as per his advice you can choose the right system.
Always install new lighting fixtures in the supervision of the experts so that they provide the right solution for all your tennis requirements.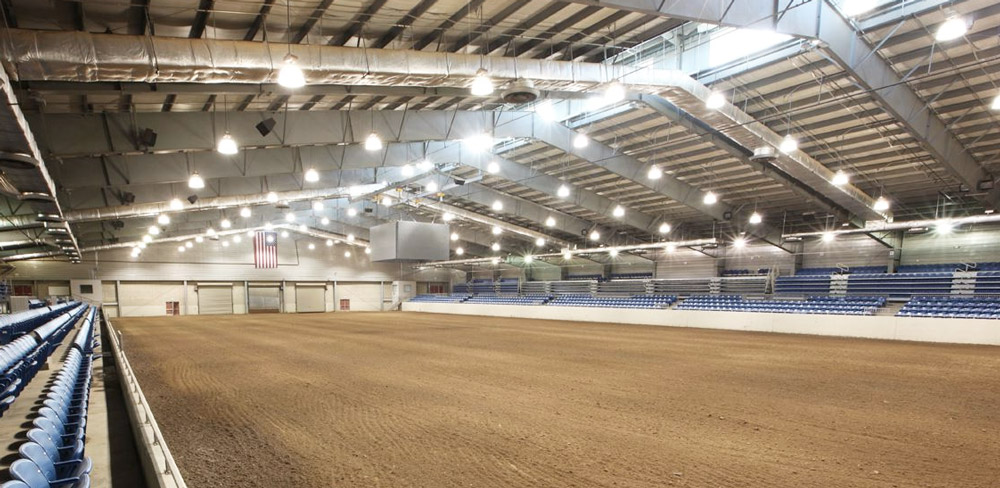 10. Horse Arena Lighting
Horse arenas could be challenging to light effectively due to their complicated designs. The last thing you need is bright lights which help riders and horses perform well during the races. Whether you are constructing a new facility or upgrading an existing area, this guide will show you some useful tips in choosing and setting up a well-lid lighting system.
a. Specific features of horse arena lighting
At first, it seems to have the same concepts as parking lots, but this isn't actually correct. A horse arena lighting system will basically require some different features to ensure two things: appropriateness and safety. A lighting system should be able to eliminate the shadows or glares that can make it unsafe for riders and horses during the match. This requires the fixtures to be installed as high as possible to minimize the hard line between darkness and brightness. Similarly, it should ensure appropriateness by standing up to the dirt, debris, dust, and water present in the facility.
b. Recommended foot-candles
The ideal foot-candle for a casual outdoor area should range from 15 to 20, though the final decision will depend on the total size. For jumper or hunter training, the recommended level is around 40, while a competitive and training dressage should be equipped with 50 foot-candles. If you want to illuminate a competitive show-jumping area, 70 foot-candles is suitable. There is quite limited information concerning the minimum foot-candles for equestrian sports, so it will depend on your personal preferences.
c. LED and fixture efficiency
Due to the purpose and size of horse-riding arenas, the lighting system usually requires a lot of fixtures for proper illumination. This means the demand for low energy expenses is as significant as ever. And the best solution to deal with this issue is powerful and long-lasting LED fixtures. These days, these units can last up to 10 times longer than their fluorescent counterparts. In addition, they are extremely durable with glass-free designs to ensure no breakage when operating. In the long term, this will save you a lot of time and money for replacing or maintaining.
d. IP Ratings
Whether your lighting system is installed outdoors or indoors, in arenas or stables, it is necessary to choose fixtures with the right IP ratings. This refers to the ability to withstand some environmental elements such as water, dust, moisture, debris or wind. Models with higher IP ratings are often better and more expensive. Here are the three most versions that you should look for the best lighting fixtures:
IP67 means submersible and completely sealed
IP66 means water resistance against powerful jets
IP65 means water resistance